Call Now
0220651349

Sumner Window Cleaning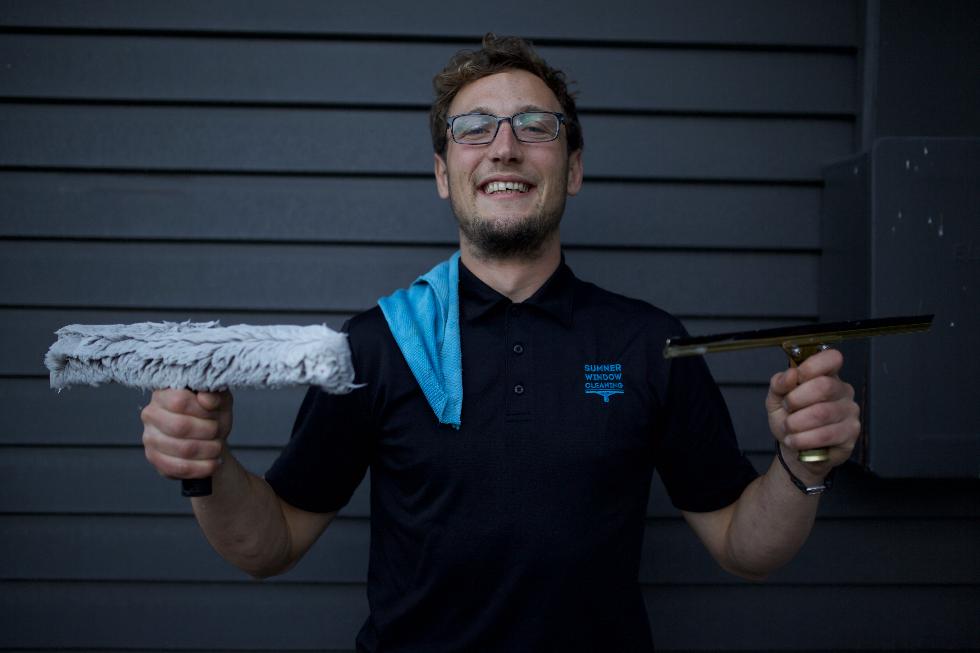 Our SimplePromise
Experienced - Jonny and all his team have at least 10 years industry experience, each!

Simple - We keep it simple. No Blades. No Harsh Chemicals.

Reach - We safely reach 70ft ( 7 storeys) from the ground using poles and purified water.

Insured - We've got it covered with comprehensive public liability insurance.

Friendly - We smile. We treat each building as if it belonged to our grandmothers.
We Have THE Longest Pole In New Zealand!!!
We are the first and so far only company in nz to have the capacity to reach up to 70ft of elevation from the ground, using the longest carbon fibre window cleaning pole in NZ!!!
Our ability to reach high, or normally dangerous windows from the ground means we have the edge in terms of cost and safety over all our competitors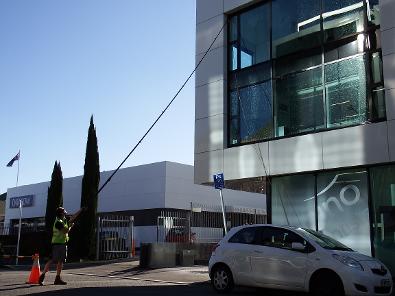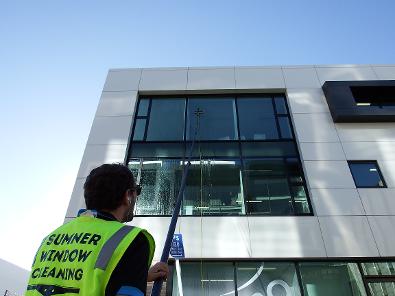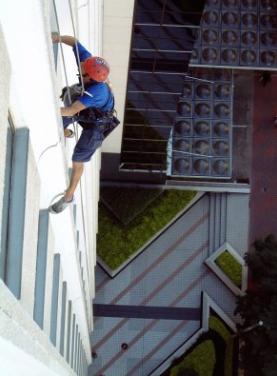 Commercial Window Cleaning
As we have expanded, more and more commercial clients, from shops and restaurants to whole supermarkets and body corps, have benefitted from the reliability of our service. We have the capacity to reach up to 5 storeys (50ft+), without leaving the ground! Anything beyond this height is tackled by our professional IRATA qualified abseilers. The more complex the building the more delighted we are to provide a safe efficient solution to you.
A selection of our current commercial clients:
New World (supermarket)
Sumner Retreat (4 storey hotel)
Bamboozle, Johnny Sausage and WHET drinking room (@ the new)
Shift Culture (furniture showroom/shared office space)
Leighs Construction Ltd (Cashel square retail and BNZ centre)
Residential Window Cleaning
In Sumner, we have established ourselves as a friendly and reliable, local window cleaning service. We also love to get into the city, where we clean residential windows throughout Christchurch. Many households look for a regular 8 weekly cycle, either for cleaning just the outside windows, or both the inside and out. No window is too difficult to reach, and our advanced methods mean nearly all our residential work is completed without having to leave the ground by ladder or rope. The safest practices leaving outstanding results, both inside and out.
Post Build Cleans
Because of the constant building repairs and road works taking place around Christchurch, post build cleans have been in high demand. It is important to complete this swiftly; particles left behind by building materials have a tendency towards settling on your windows. This is not "just dust"... if left, it will actually begin to etch your glass. This could result in permanent staining and irreparable damage. New Glass is still "soft" for the first year or two and is there for particularly susceptible to damage!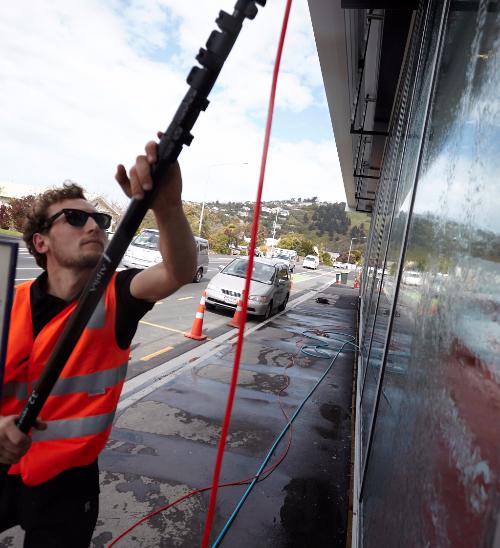 Exterior Building Cleans (AWash Down)
Christchurch and the surrounding bays can be dusty, sea and windswept places. We provide a safer and gentler alternative to power washing by providing full building cleans of most surfaces. Our "soft wash" is done with a soft bristled brush and can be done either with or without detergent as is required. Go ahead and give your building a full face lift!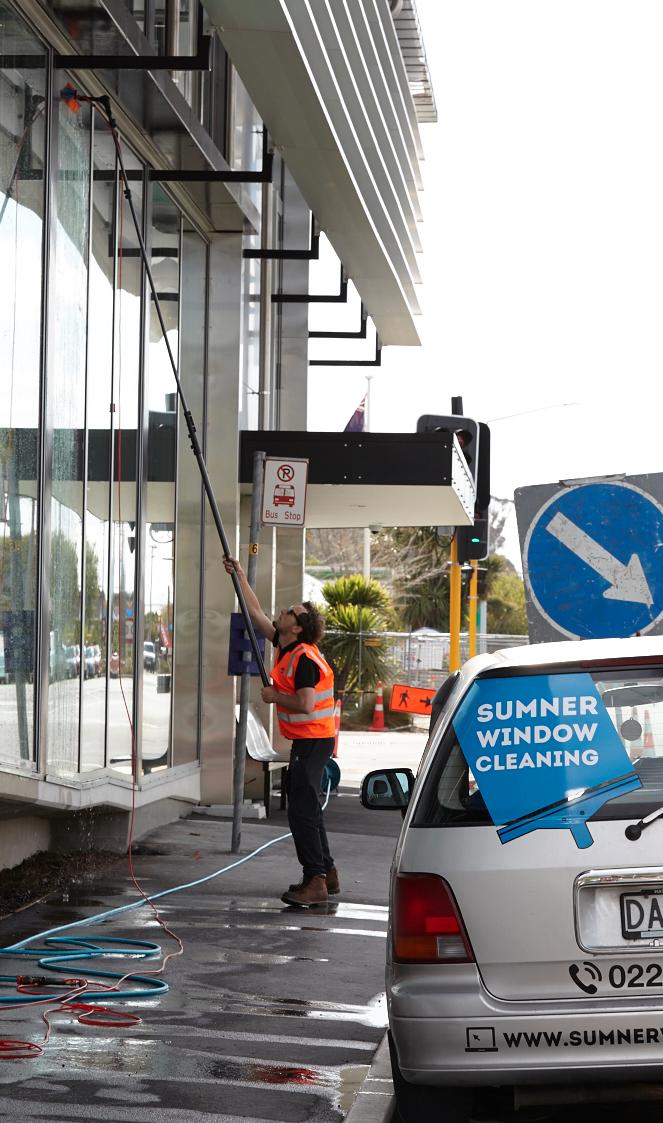 Difficult Access and Pure Water
The water from our taps is NOT PURE, it has all sorts of chemicals and minerals added to it before it flows from your tap. Therefore, when tap water evaporates, it leaves behind mineral and chemical deposits that are damaging to your windows. These particles will actually begin to etch the glass: which you've probably noticed happen to your shower glass.. we see it happening most often on low windows where water from a sprinkler system has hit the glass.
New windows are particularly susceptible to this, so called, "hard water staining", as new glass remains "soft" for some time after the manufacturing process. Within only a month, a new window can already begin to show signs of permanent hard water damage.
At Sumner Window Cleaning we use a "Pure Water" cleaning system. A soft bristled brush on the end of a carbon pole is used to lift any grime, whilst a constant feed of pure filtered water rinses away any deposits. It almost always eliminates the need for detergents that could also damage the glass, and leaves your windows sparkling.
As well as being ideal for office blocks and apartments, this method is also recommended for skylights, awkward spaces and natural areas where protecting lawns and plant life is important. It is now the standard method used to clean windows around the world (particularly in Australia, USA and The UK) and is slowly becoming more common in NZ as an imported technology.
Call Jonny: 0220651349
Sumner, Christchurch, NZ, 8081
© Copyright 2014 | sumnerwindowcleaning.com